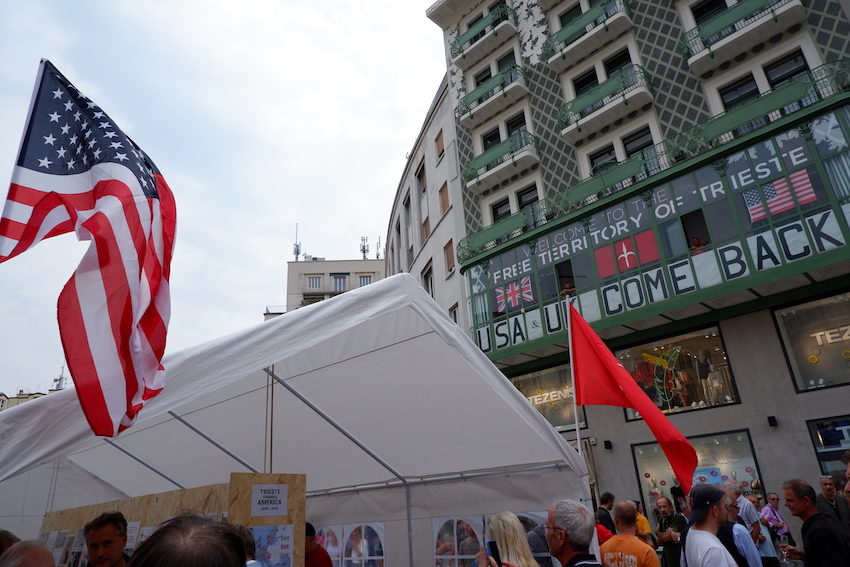 BLOG "ENVIRONMENT AND LEGALITY" – ARTICLES PUBLISHED IN 2018
originally written in Italian by Roberto Giurastante on his blog "Ambiente e Legalità"
19/11/2018: THE POLITICS OF COMPROMISES: ALL ITALIAN WASTE GOES TO TRIESTE!
5/11/2018: 1918-2018: THE LONG CENTURY OF ITALIAN NATIONALISTIC PROPAGANDA IN TRIESTE
14/10/2018: THE FIVE CROSSES
2/10/2018: HERMADA PROJECT
30/9/2018: WITHOUT JUSTICE?
26/9/2018: THE FREE TERRITORY OF TRIESTE: BETWEEN NATIONALISMS AND FUTURE
23/9/2018: WHY ITALIAN WAR CRIMES REMAINED UNPUNISHED
18/9/2018: PURGING…
16/9/2018: ON THE PATH OF LEGALITY
9/9/2018: FREE TERRITORY OF TRIESTE, BORDERS, FLAGS, AND NEO-FASCIST MILITIAS
9/7/2018: THE UNCOMFORTABLE TRUTHS OF ITALIAN HISTORY: THE SECOND THIRTY YEARS' WAR
3/6/2018: THOSE WHO PROTECTED TRIESTE AND THE FTT FROM 1945 TO 1954: THE BETFOR
29/5/2018: LNG TERMINAL IN THE INTERNATIONAL FREE PORT OF TRIESTE: LAST CHAPTER
16/5/2018: OFF TO THE FISCAL LIBERATION OF TRIESTE
1/5/2018: EXERCISING OUR RIGHTS
21/4/2018: UNFORGOTTEN SACRIFICE
13/4/2018: TRIESTE: ARMING THE LOCAL POLICE & PUBLIC ORDER
7/4/2018: WASTE FROM ITALY TO THE FREE TERRITORY OF TRIESTE: WHOSE DECISION?
2/4/2018: THE NATO FLEET IN TRIESTE
17/3/2018: RETREAT
14/3/2018: NO CASE TO ANSWER
5/3/2018: WHY ITALIAN ELECTIONS ARE ILLEGITIMATE IN THE FREE TERRITORY OF TRIESTE
16/2/2018: THE STRENGTH OF A CAUSE
6/2/2018: …THEY RESISTED UNTIL THE END
3/1/2018: FREE TERRITORY OF TRIESTE AND RACIAL LAWS: A 1960 CLASSIFIED DOCUMENT