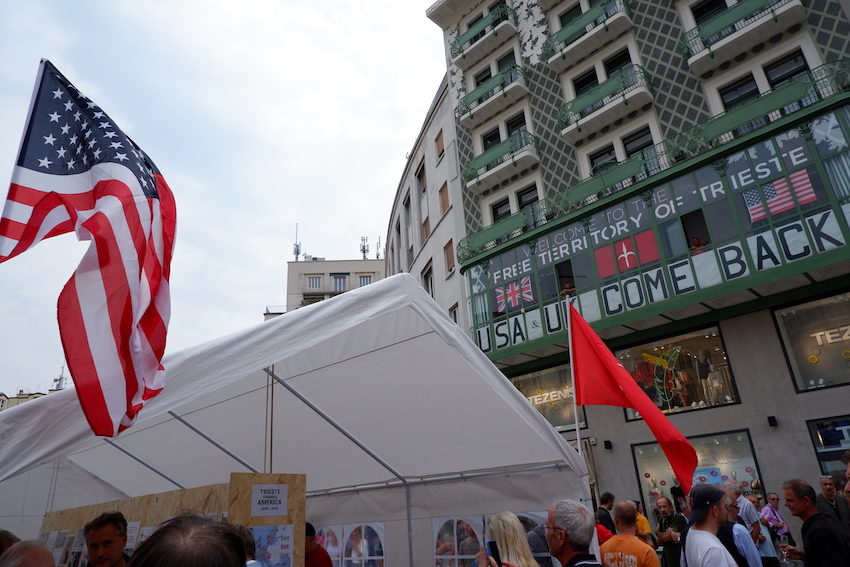 THE CELEBRATIONS OF THE PEOPLE OF THE FREE TERRITORY OF TRIESTE ON THE 71st INDEPENDENCE DAY OF THE FREE TERRITORY OF TRIESTE. STANDING FOR TRIESTE AND ITS INTERNATIONAL FREE PORT, AGAINST THE NATIONALISTIC PROPAGANDAS AND ANNEXATION ATTEMPTS OF THE ITALIAN STATE.
One more year: the 71st anniversary of the coming into force of the Treaty of Peace with Italy is celebrated in the Free Territory of Trieste.
The Free Trieste Movement organized special events to celebrate the importance and legal force of the international treaties that establish and recognize the Free Territory of Trieste on Saturday, September 15th, and on Sunday, September 16th. One of the events, held in pizza della Borsa, was a toast to inaugurate the exhibition of photographs "Trieste Thanks America" on the occasions of the 70th anniversary of the Marshall Plan (LINK).
The exhibit about the Marshall Plan in a beautiful location as is Piazza della Borsa, in front of the offices of the Movement that is itself the symbol of the legal struggle for the Free Territory of Trieste and – unfortunately for the corrupted, Italian nationalistic establishment that simulates the sovereignty of the Italian Republic on Trieste – is also one of the most well-known and photographed abroad, was very much appreciated.
Essentially, the business card of the FTT. It is a prestigious office that of Trieste Libera, and it has a long story: when Trieste was the pearl of Mitteleuropa, it hosted the restaurant kosher of the Jewish-Hungarian Goldbergers (LINK) and so it was until the beginning of the persecutions by Fascist Italy, with the proclamation of the Italian Racial laws, repealed here in Trieste only by the first British-US Government, the A.M.G. – V.G. (LINK).
It is significant and important that Trieste's independence is celebrated here, as the Union Jack and the Star-Spangled Banner are displayed.
Despite the many censures of Italian media, and attacks of the judiciary, we keep going. We go as far as to have 600 citizens and enterprises of the Free Territory of Trieste who support the legal action of the I.P.R. F.T.T. with has brought the Italian Government before Court for the breach of their rights and of Italy's own laws: the judgment is very much awaited, and it is not far (LINK). This is the path of legality that Italy cannot stop.
Translated from blog "Ambiente e Legalità" – "Environment and Legality" by Roberto Giurastante