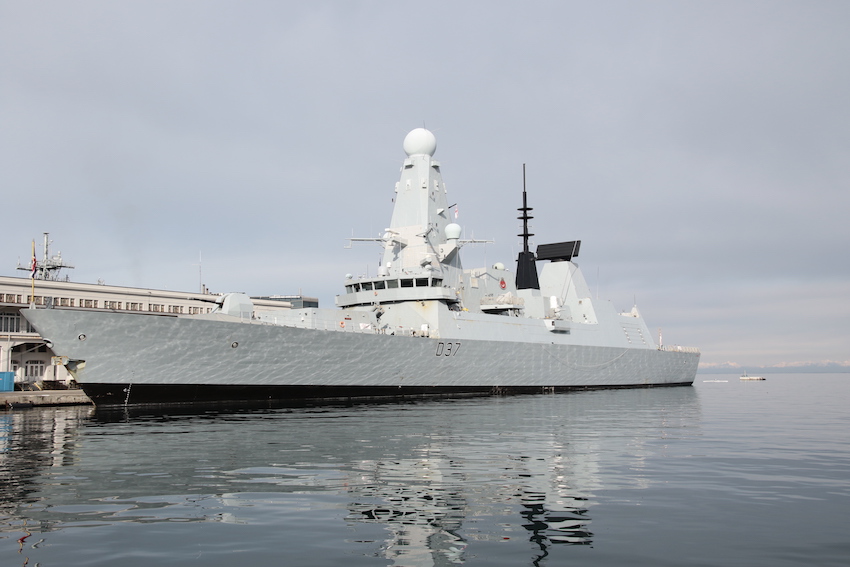 THE NATO FLEET IN TRIESTE
Recently, Trieste is hosting the Standing NATO Maritime Group 2, in charge of Mine Countermeasure.
The international fleet consists in flagship H88 Enterprise m nd D37 Daring-class destroyer Duncan (Royal Navy), in frigate ESPS Victoria an minehunter Segura (Armada Española), as well as in minehunter Alghero (Marina Militare Italiana).
The Royal Navy's presence in the fleet is especially welcomed, because the Government of the United Kingdom (UK), together with that of the United States (US), is the primary administering Government of the Free Territory of Trieste. Since 1947, Trieste is an independent State.
Since 1954, the Italian Government is exercising temporary civil administration of the Free Territory on mandate of the United States and of the United Kingdom. Also since 1954, the Free Territory's military defense is entrusted to NATO. Indeed, Trieste is a neutral and demilitarised State. NATO defends it within the same defense sector as Italy, under the clause "Italy including the area of Trieste under Italian administration".
This is also why Italian troops serving their duties in Trieste are not acting on behalf of the Italian State, rather, they act on behalf of NATO: LINK
To have a better understanding of this situation, we suggest the I.P.R. F.T.T. Law Commission's latest expertise. The document is also part of the ongoing legal action for demonstration regarding Trieste's taxation (No. 1757/17, pending before the Court of Trieste, the conclusions shall be presented before Court on 15 May 2018). Information about NATO is at page 29: LINK
Further readings from my blog:
-1.3.2015: (DE)MILITARIZATION OF THE FREE TERRITORY OF TRIESTE
– 9.8.2015: THE "INTERNATIONAL" NUCLEAR PORT OF TRIESTE
– 28.9.2015: NATO CODE ACP 104
– 10.1.2016: DEMILITARIZATION AND NEUTRALITY OF THE FREE TERRITORY OF TRIESTE
Translated from blog "Ambiente e Legalità" – "Environment and Legality" by Roberto Giurastante
SOME PHOTOGRAPHS OF THE STANDING NATO GROUP IN TRIESTE:
HMS Duncan (sicth of the Type 45 or Daring-class), is one of the biggest ships of the Royal Navy, it is specially equipped to protect complex groups of ships from airplanes.
Funnel and one of the Oerlikon 33mm cannons, for effective anti-air and short range defence (detail).
Aft-most flight 

dec

k

(the ship transport one AW101 helicopter).
Tower of the multi-function Sampson radar for Anti-aircraft warfare (400 Km range).
Bridge and four-bundle container of anti-ship RGM 84 – Harpoon missiles.
S1850M multifunctional radar by BAE Systems, it can track up to 1000 air targets at a range of around 400 kilometres.
The HMS Enterprise (H88), multi-role ship serving as command ship and supported by Spanish O.H. Perry-class frigate Victoria (F 82)  (an obsolete class, dating back to the 80s).
Aft part of the Enterprise and assault motor boats (detail).
 Funnels of Spanish minehunter Segura (M31).
Spanish minehunter Segura next to minehunter Alghero M5556 (Marina Militare Italiana).