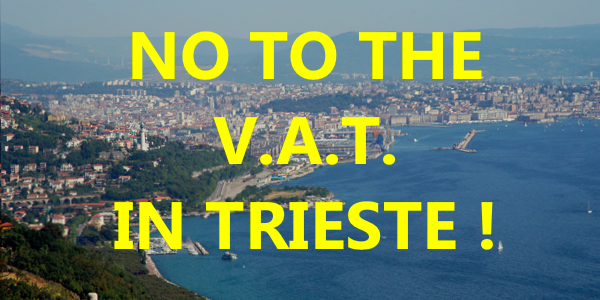 Trieste, December 14th, 2018. – The Free Trieste Movement announces to have joined legal action No. 4277/2018 RG, initiated on November 29th, 2018 by the International Provisional Representative of the Free Territory of Trieste – I.P.R. F.T.T. VS the Italian Government, its Ministry of Finances, its Tax Revenue Office and the Italian Agency of Customs and Monopolies for the determination of the non-applicability, under both Italian and E.U. legislation in force, of the Value Added Tax of the Italian State to the supply of goods and services, as well as on imports that take in the present-day Free Territory of Trieste and in its international Free Port, the temporary civil administration of which it sub-entrusted to the responsibility of the Italian Government (LINK).
How evident from the writ of summon (LINK) the Italian legal order and that of the European Union do not allow to apply the Decree of the President of the Italian Republic No. 633/1972, which establishes the Value Added Tax "within the territory of the Italian State" in the present-day Free Territory of Trieste, and the very Constitution of the Italian Republic confirms that the present-day Free Territory of Trieste, with its international Free Port, is another State.
The Free Trieste Movement is the first to join the lawsuit, strong with the support of its members (which are more than the local supporters of Italian parties) and of the over 20,000 signatures of citizens that it has already collected for the affirmation of the rights of the present-day Free Territory of Trieste.
Free Trieste is now taking care of collecting further interventions from the many citizens and enterprises that want to join the legal action through its office (piazza della Borsa 7, mezzanine) open Monday through Friday from 9.30AM to 12PM and 4PM to 7PM, and on Saturday, 9.30AM to 7PM (tel. (+39) 040 2470772).
Press Office of the Free Trieste Movement
Update: is possible joining the lawsuit until March 2021.
To join the legal action from the office in Trieste, the documents requested are an ID document and the Italian fiscal code; additionally, joining as a legal person requires the certification of the Chamber of Commerce and eventually a resolution authorising the chairperson to lodge the lawsuit.
To join from abroad, it is necessary taking direct contact with the Free Trieste Movement to receive the needed legal documentation via email: LINK.