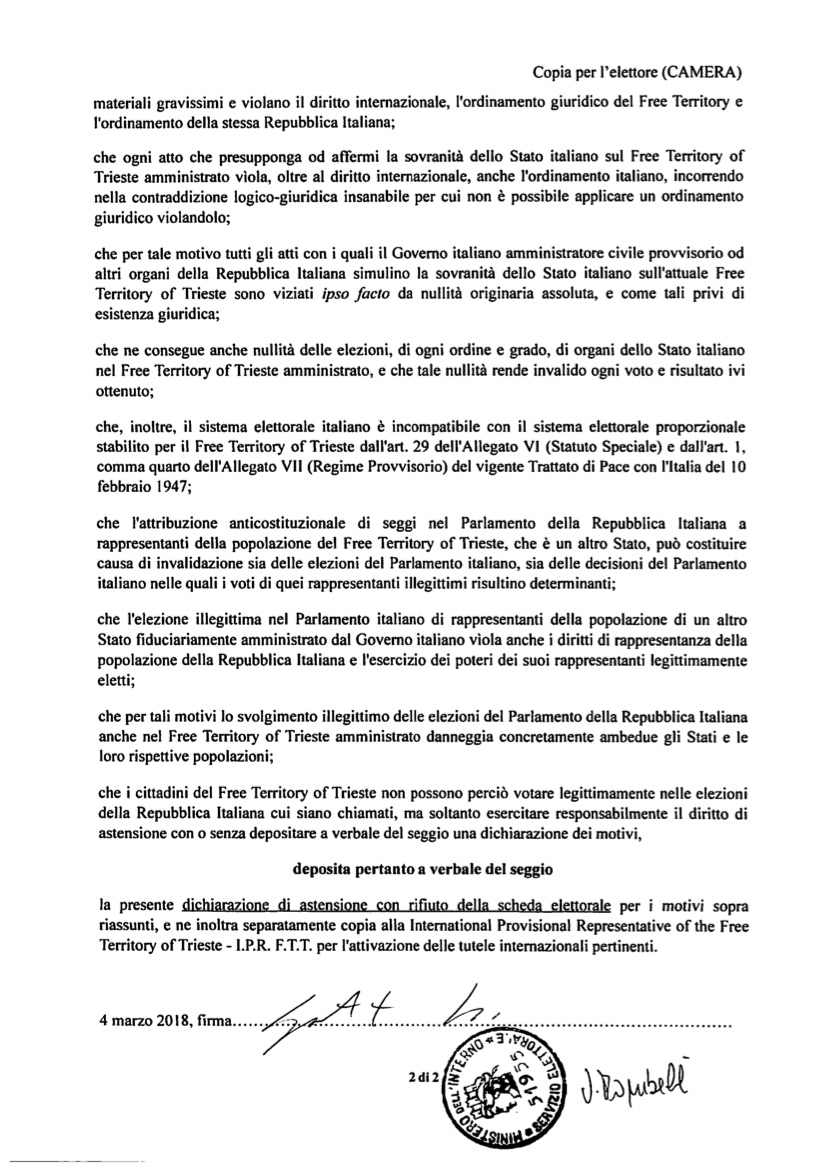 "…all acts with which the administering Italian Government, entrusted with a sub-mandate of temporary civil administration, or any other body of the Italian Republic simulates the sovereignty of the Italian Republic over the present-day Free Territory of Trieste are ipso facto flawed being null and void ad originem, therefore, they do not exist under the law."
In Trieste, the opposition to Italian elections has firm gal foundations in both Italian and international law and, of course, also in the law of he Free Territory of Trieste itself.
The 1947 Treaty of Peace with Italy ruled the ceasing of Italian sovereignty over Trieste starting from the day it came into force, 15 September 1947: ever since, the Free Territory of Trieste is subject to a special provisional regime of Government, which does also envision the legitimate elections and taxes of the new independent, sovereign State.
In 1954, under the Memorandum of Understanding of London, the Italian Government committed, before the Governments of the United States and of the United Kingdom, for their role of primary administering Governments of the FTT on behalf of the UN, but also in respect to the new State, to respect the integrity and independence of the present-day Free Territory of Trieste.
This means the Italian State has no right to simulate its sovereignty over Trieste and its international Free Port to subject them to abnormal taxes and illegitimate elections: NO TAXATION WITHOUT REPRESENTATION.
Translated from blog "Environment and Legality" – "Ambiente e Legalità" by Roberto Giurastante