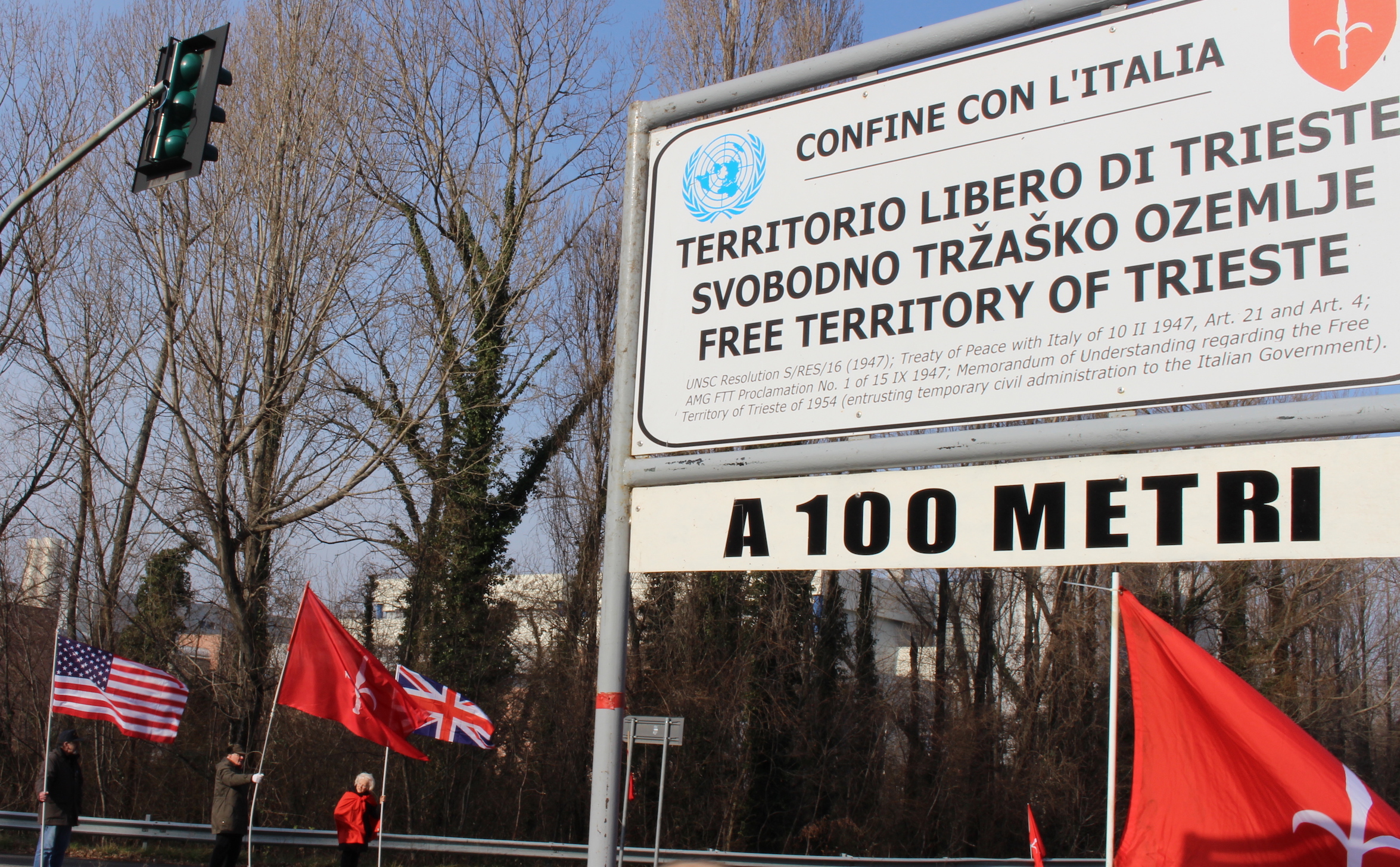 FREE TRIESTE: ACQUITTAL IN THE TRIAL FOR THE SIGNS ON THE BORDER WITH ITALY
Trieste, 22 September 2017 – The Court of Trieste has acquitted the President and a volunteer of the Free Trieste Movement – Movimento Trieste Libera – (FTM – MTL) in the criminal proceeding brought against them by Public Prosecutor Federico Frezza following a demonstration during which Free Trieste placed border signs on the State border of the present-day Free Territory of Trieste with Italy at the road crossing near San Giovanni di Duino – Štivan and Medja Vas  – Medeazza.
Public Prosecutor Frezza had already shown unusual hostility to those defending the Free Territory of Trieste's rights. In 2014, he charged with subversion citizens who joined a demonstration in defense of the international Free Port. However the Court declared the charge ungrounded on July 10th, 2017, with a decision by Judge Marco Casavecchia (LINK).
As for the border signs, Public Prosecutor Frezza charged Free Trieste's President, Roberto Giurastante, with failure to comply with a police officer's order to remove the signs. Also, he charged one of the Movement's volunteer with insulting the police. Upon examining a video recording of the event and hearing many witnesses, Judge Francesco Antoni cleared both accused persons of all charges. There is no case to answer.
What gave rise to the question is the border signs that mark the border with Italy, which had been correctly placed by the first British-US administering Government of the Free Territory of Trieste, while the temporary civil Italian Government they have sub-entrusted with this task abandoned the signs to rust, and ultimately removed them instead of placing new ones.
Since 2016, Free Trieste does therefore request the actual signs be officially restored, as well as holding demonstrations on the border during which it symbolically displays facsimile signs, which include references to all pertinent laws (LINK).
The signs are displayed during demonstrations on the border since 2013, and this did never give raise to objections, except twice in March and May 2016, when two different police officers requested them be removed, the second time they were even seized fining the President of the Free Trieste Movement and committing him and another volunteer for trial.
However, the seizure was already annulled by the Court of Trieste on June 23rd, 2016, ordering the signs be returned (as told by Roberto Giurastante himself on his blog: LINK), and now it declared also the other accusations against Free Trieste absolutely groundless, clearing both accused persons from all charges.
Press Office of the Free Trieste Movement