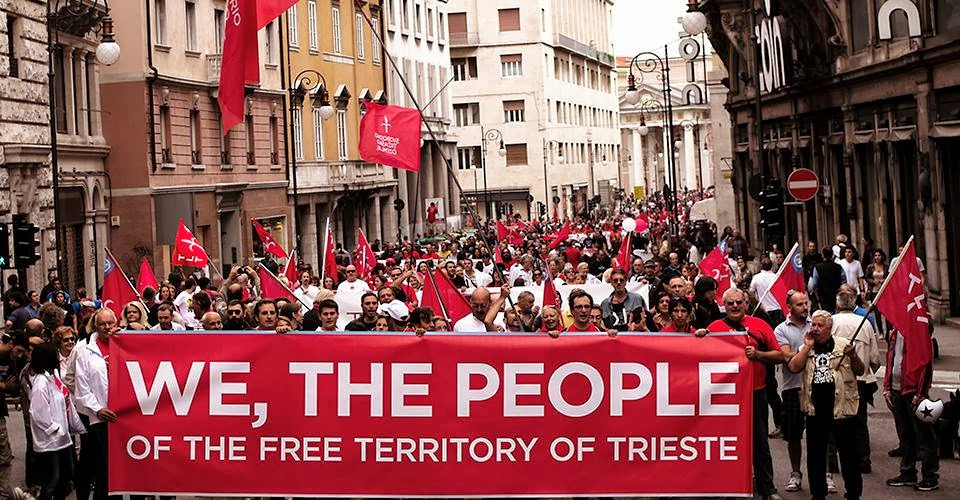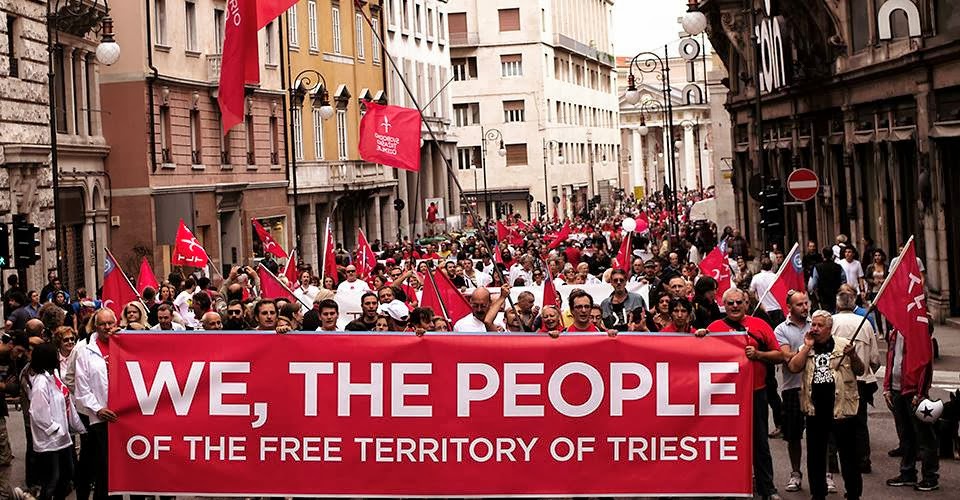 BLOG "ENVIRONMENT AND LEGALITY" – ARTICLES PUBLISHED IN 2013
originally written in Italian by Roberto Giurastante on his blog "Ambiente e Legalità"
(translation in progress)
MAXIMUM TAX TO REPRESS THE CIVIL REVOLUTION OF TRIESTE
FINAL PUSHES TO THE ITALIAN CRIMES IN TRIESTE
THE FREEDOM TO EXPRESS OPINIONS DOES NOT EXIST IN THE FREE TERRITORY OF TRIESTE
THE $OUND OF MU$IC
FUMUS PERSECUTIONIS
PUNISHING THOSE WHO DEMAND RESPECT FOR THE LAW
A COMPLAINT TO DEFEND DEMOCRACY
SHOUTING THE MOUTH OF FREE PRESS
A NOVEMBER 3RD TO REMEMBER
4/11/2013: HONOR
RESPECT
SUNDAY, NOVEMBER 3RD, AUSTRIAN-HUNGARIAN MILITARY CEMETERY OF PROSECCO AT 10:30
THREATS OF STATE OR THREATS OF THOSE WHO ABUSE OF THE STATE?
26 OCTOBER 1954: THE DAY OF THE INVASION
23/10/2013: THE GHOST-PROVINCE
18/10/2013: INTIMIDATING AND REPRESSING
LONGING FOR FREEDOM
APPEAL BEFORE THE TAR (REGIONAL ADMINISTRATIVE COURT) TO CANCEL ILLEGAL REGIONAL ELECTIONS OF FRIULI VENEZIA GIULIA
FLAGS IN THE DUST
THE TRUE COLORS OF ITALY
FIFTY-SEVEN TRIESTINES AGAINST THE ITALIAN CRIMINAL SYSTEM IN TRIESTE
JURIDICAL NONEXISTENCE OF THE COURT OF APPEAL OF TRIESTE
29/9/2013: CONSPIRACY THEORY
ENVIRONMENTAL INCOMPATIBILITY OF ITALIAN JUDGES WITH TRIESTE LIBERA
22/9/2013: GET RID OF THE LEADERS OF THE FREE TRIESTE MOVEMENT
SETTEMBRE 15TH, 1947: INDEPENDENCE DAY
INDICTMENT
WAITING FOR THE JUDGMENT
PROVOCATIONS COMMITTED BY THE STATE
LIE AFTER LIE
OUTLAW JUDGES AGAINST THE FTT
27/8/2013: THE HEROES OF ZAGORA
WELCOME TO THE FREE TERRITORY OF TRIESTE
22/8/2013: SIMULATORS OF SOVEREIGNTY: THE HIDDEN JUDGMENT
TIGHTROPE
17/8/2013: THE MAYORS OF THE FREE TERRITORY OF TRIESTE
THE JUDGMENTS OF THE LEGITIMATE COURT OF THE FREE TERRITORY OF TRIESTE CONFIRM THE NONEXISTENCE OF ITALIAN SOVEREIGNTY OVER TRIESTE
AFTER TWO YEARS
8/5/2013: STATE OF ABSOLUTE ILLEGALITY
A PECULIAR DUMPING SITE
AN IMPORTANT COMPLAINT
PUBLIC ENEMIES
ITALIAN MAGISTRACY VS FREE TRIESTE
17/7/2013: THE MEMORANDUM OF LONDON IS FROZEN
17 JULY 2013, THE DAY OF THE MEMORANDUM OF LONDON: DISCUSSING THE NON-EXISTING ITALIAN SOVEREIGNTY OVER TRIESTE BEFORE COURT
FIRST SIT-IN IN FRONT OF THE TRIESTE TAX COURT
7/7/2013: THE REDEMPTION OF TRIESTINE CAVES ACCORDING TO ITALIAN NATIONALISM
GOODBYE, FRIEND
FTT: A WARM MONTH ON THE JUDICIAL FRONT
PROPAGANDA AGAINST THE FREE TERRITORY OF TRIESTE BY NEWSPAPER IL PICCOLO (GRUPPO ESPRESSO)
WIEN, JUNI 22. 2013
THE CITIZENS OF THE F.T.T. PUT ITALY IN DEFAULT
ITALIAN FREE ZONES AGAINST THE FREE TERRITORY OF TRIESTE
2/6/2013: SUBVERSION OF STATE: ITALIAN FINANCIAL POLICE AGAINST THE FREE TERRITORY OF TRIESTE AND THE TREATY OF PEACE
THE RIGHT TO SURVIVE
A SUSPENDED SOVEREIGNTY
7/5/2013: THE OPPRESSED AND THE OPPRESSORS
LETTERS FROM THE PRISON
ITALIAN REGIONAL ELECTIONS IN FRIULI VENEZIA GIULIA: TRIESTE REBELS
APPEAL BEFORE THE T.A.R. (ADMINISTRATIVE REGIONAL COURT) TO IMPUGN THE ILLEGAL ELECTIONS OF ITALIAN REGION FRIULI VENEZIA GIULIA IN TRIESTE
ITALY ATTEMPTS TO FORCE REGASIFICATION TERMINALS IN THE FREE TERRITORY OF TRIESTE
IS THE F.T.T. AT ITS TURNING POINT ON THE JUDICIAL FRONT?
18/3/2013: A RACIST "ANTI-SLAV" LAW, IN FORCE FOR 53 YEARS: ETHNIC HATRED TO HIDE THE MYSTIFICATION OF HISTORY
NEVER ENDING JUDGMENT
TRIAL TO THE FREE TERRITORY OF TRIESTE
TO GET OUR FUTURE BACK
AN "INCONVENIENT" DOCUMENT
I DID NOT VOTE FOR ITALY
18/2/2013: A SOVEREIGNTY THAT DOES NOT EXIST: THE COURT OF TRIESTE DECLARES THAT THE CITY OF TRIESTE IS UNDER ADMINISTRATION
ARE CITIZENS OF TRIESTE THAT DECLARE THEIR CITIZENSHIP OF THE FREE TERRITORY OF TRIESTE UNDER THREAT OF ARREST?
7/2/2013: KARST: FORTY YEARS AGO…
2/2/2013: FREE FROM ALL CHARGES
ACCUSED
BEING BORN A "FREE CITIZEN" IS BEAUTIFUL
WHY TRIESTINES ARE "FREE CITIZENS" INSTEAD OF ITALIANS
2013 BEGINS UNDER THE AEGIS OF ITALIAN ILLEGALITY