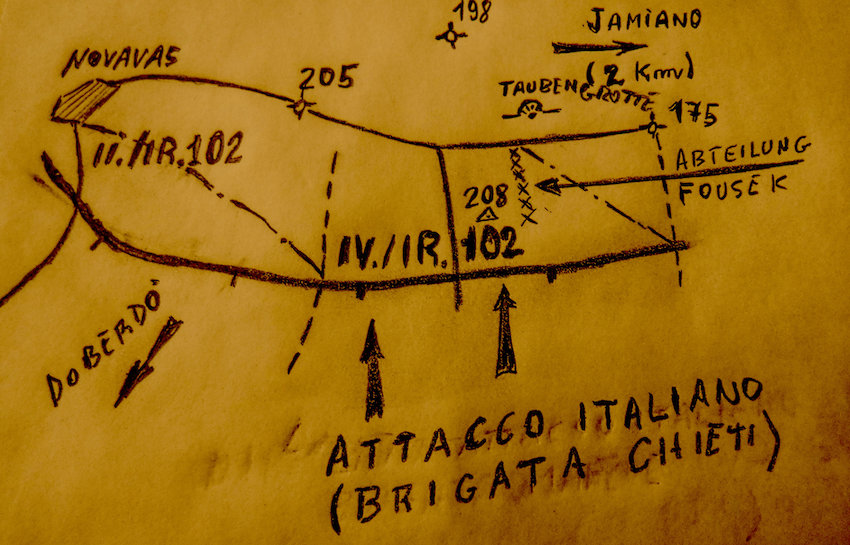 15 September 1916, hell on Altitude 208 North: Oberleutnant Johann Fousek (K.u.K. I.R. 102, IV Battalion). "Retreat or surrender? Counterattack."
On 15 September 1916, in the middle of the battle for Altitude 208 North. The Italians call the two Altitudes "maligne gemelle" (evil twins), as they tower on the Vallone, barring them the way to the Comeno-Komen plateau. It is two well-defended Austro-Hungarian strongholds, cores of the frontline on the defense of the southern Isonzofront. One wave after another, under the fire of artillerymen and machine-guns, disregarding the losses, the Italian brigades Chieti and Macerata attack and break through the first Austro-Hungarian defense line, capturing Altitude 208 and from there can start a double action to circumvent the defending forces from North and South.
The condition of the defending Austro-Hungarian troops is critical, and it worsen from hour to hour. The IV battalion of Infantry Regiment 102 protects the sector, but is forced to draw back using every dolina ad new stronghold. The command of the battalion orders the three platoons in he area to hold the line, to protect every inch of land, but the attack of the Italians becomes stronger and stronger. At 1PM, 24-year-old Oberleutnant Joahnn Fousek, born in Hostim bei Braun, Bohemia, with his company of 120 men must make decisive decisions for the fate of the whole front. He known nobody is coming to help him in a short time: his men are isolated. A mass of Italians attacks, if they break through the whole sector defended by his company, they will spread behind the other defenders of Altitudes 208 North and South, putting the whole Austro-Hungarian sector in danger.
Bombings end, and Fousek groups his men as they leave their cave-shelters, then he organizes rifle fire against the attackers, who are only 30 meters away. The Bohemians take refuge behind the little walls made of Karst stone and decimate their opponents who, surprised by the powerful reaction, hesitate: this is then Fousek, a wounded hand notwithstanding, guides his men as they counterattack and, after a furious battle with handgranades, repels the enemy, captures a full Italian company, and wins back Altitude 208 North at 2.50PM, holding it until the arrival of a Landsturm battalion.
In this action, Fousek's company, alone, faces three Italian companies. The breakthrough of the 134th regiment of the Chieti Brigade and of the 31st Italian Division is overcome by the firm reaction of the Czechs of K.u.K. I.R. 102, IV Battalion, and of the fierce, unpredictable counterattack lead by courageous Oberleutnant Joahnn Fousek with one only company.
Translated from blog "Ambiente e Legalità" – "Environment and Legality" by Roberto Giurastante