THE COURT OF BOLOGNA CLEARD ME FROM THE CHARGE OR THREAT AGAINST MAGISTRATES OF THE COURT OF TRIESTE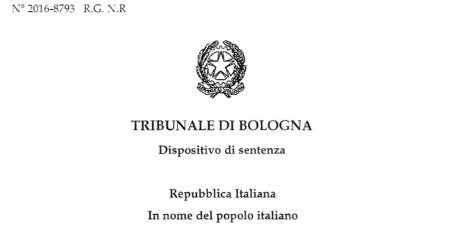 With a judgment issued on 28 February, the Criminal Court of Bologna, on the very first hearing, declared me not guilty: the charge was brought forward in 2015 and consisted in alleged threats against a magistrate serving at the Republic's Prosecution Office in Trieste.
The charge was obviously unfounded and pretentious, but this proceeding against me, opened rather carelessly by the Republic's Prosecution Office in Bologna, is only one of the many that were brought against me in the years I struggled to defend legality in Trieste, in the Free Territory of Trieste.
It is criminal proceedings that, individually but also all together, represented the (failed) attempt to silence legitimate action for the recognition of the rights of the people of the Free Territory of Trieste. It failed because we resisted with the unbreakable force of truth and law.
As confirms the very judgment of the Court of Bologna itself, where I stated once again my rights of citizen of the Free Territory of Trieste in that first and last hearing, there was "no case to answer". Because calling for compliance with the law does not constitute a crime.
Translated from blog "Ambiente e Legalità" – "Environment and Legality" by Roberto Giurastante