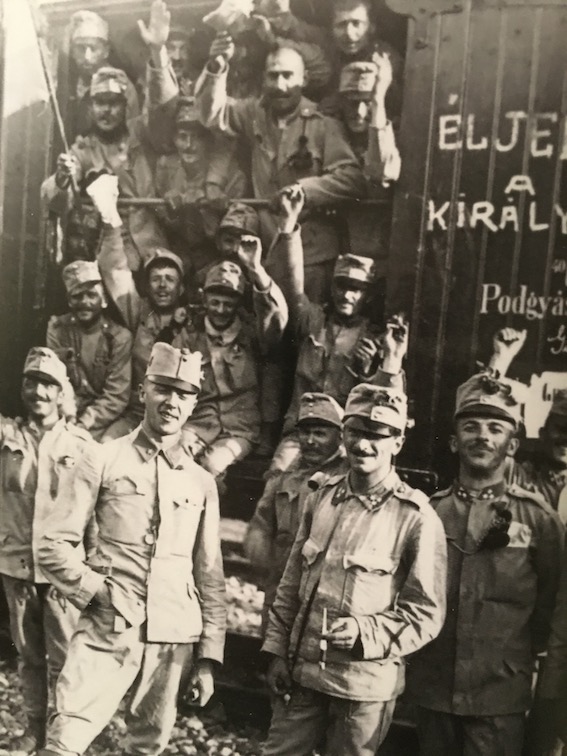 Summer 1914: the Honvéd Infanterieregiment Nr. leaves for the Eastern Front. In June 1915 it will be transferred in the Southern sector of the Isonzo front. This Regiment, which distinguished itself defending Mt. San Michele, firmly defended the bastions of the si deve nell'agosto-settembre 1916, la strenua difesa dei bastioni del Fortino Triangolare – Triangular Fort on Altitude 208 North-Altitude 208 South, between Opatje Selo and Nova Vas, strongholds of the new Austrian-Hungarian defense line in front of the Hermada.
"There is no stone on the Karst, between mount San Michele and mount Hermada, that has not recede its toll of magyar blood. Here, with their fortitude, thousands of Honvéd have written one of the most heroic pages of World War I history".
_______________
"Yet, despite all its evident weaknesses the loosely knit conglomeration of races withstood the shock and strain of war for four years, in a way that surprised and dismayed her opponents".
Sir B.H. Lidell Hart
The Austrian-Hungarian army (K.u.K – Kaiserliche und Königliche Armee) defended a multiunit Europe, represented by the Austrian-Hungarian Empire, until the very end.
On the fronts in Galicia, Romania, of the Balkans, of the Isonzo, from the Alps to Palestine, this army, symbol of one of the oldest Monarchy in Europe, fought without giving up against enemies that did often have more means and men.
Fourteen different folks, together in one tolerant State, desperately fought with their army in a war they lost. They fought for a better world. They were overwhelmed, but not defeated.
And we will forever miss the lost world they represented. We miss the society in which values were clear and based on respecting differences. Under any aspects, that society was better than the one we have today.
Translated from blog "Ambiente e Legalità" – "Environment and Legality" by Roberto Giurastante