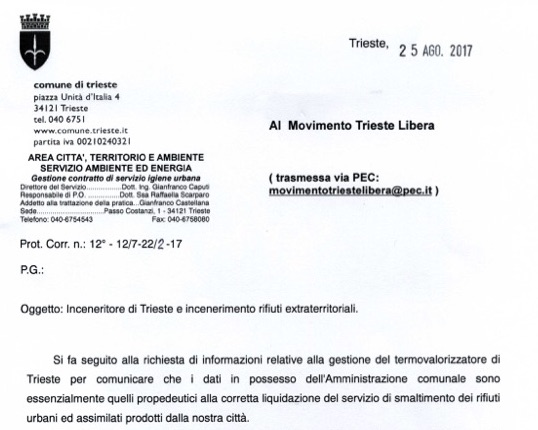 THE MUNICIPALITY OF TRIESTE DECLARES TO HAVE NO IDEA ABOUT WHAT WASTE IS DISPOSED IN THE INCINERATION PLANT OF TRIESTE, WHICH IS MANAGED BY A LIMITED LIABILITY COMPANY.
The recent answer that the Free Trieste Movement received from the Municipality of Trieste with reference to the disposal of waste in the local incineration plant confirms the seriousness of an intolerable situation, because the citizens and the territory are exposed to an abnormal and continuing rise of the very dangerous pollution caused by the incineration of waste.
At this point, the incineration plant of Trieste is of use only for the others, which means Italian waste. Out of about 200,000 tonnages of waste incinerated at the Trieste plant every year, only the third part is collected in the city and in its territory. The remaining parts are transported to Trieste from Italy, especially from Friuli Venezia Giulia (Udine, Pordenone, Gorizia), from Lombardy, from Veneto, from Tuscany, from Lazio, from Campania. Which means the Free Territory of Trieste keeps being used as a landfill by Italy.
And the Municipality of Trieste claims to have no control on the management of the incineration plant, which since a couple of years is entrusted to a L.L.C. (Hestambiente S.r.l.) established for this purpose after the privatization of the former Triestine municipal undertaking in charge of waste, which is now incorporated in an Italian company (Hera group). The same L.L.C. is also in charge of the significant polluting emissions. Is it possible that in Trieste it is a L.L.C. to decide the life and death of the people acting as its own controller without any effective control of health authorities?
Obviously, the Municipality of Trieste has the possibility and obligation to oppose all of this, since it has specific responsibilities when it comes to the protection of the health of its citizens. But it does not exercise this authority, instead, it takes part in what is under all circumstances a continuing case of pollution carried out by the bordering Italian State with the tacit consent of the Italian Government, the temporary civil administrator of the Free Territory of Trieste.
Trieste and its citizens are just victims of this perverse system made of overlapping powers and economic networks that hide behind the curtain of Italian nationalism with which, in Trieste, the representatives of the institutions, politicians, and public authorities attempt to justify their collusion, their dirty business, and their ineptitude.
Trieste turned into a colony, and the citizens deprived of their own rights, including that to health, because they are deprived of the very right to be represented by their own legitimate authorities.
And Triestines must keep suffering without defenses the economic, environment, and sanitary consequences of pollution that they are no responsible for, unless for the fact that they are administered by local politicians at service of the Italian system of corruption.
Translated from blog "Ambiente e Legalità" – "Environment and Legality" by Roberto Giurastante
The video recorded by Free Trieste (in Italian):