SOON, IT WILL HAPPEN ON A WEEKLY BASES. REGION FRIULI VENEZIA GIULIA AND THE MUNICIPALITY OF TRIESTE REFUSE TO ANSWER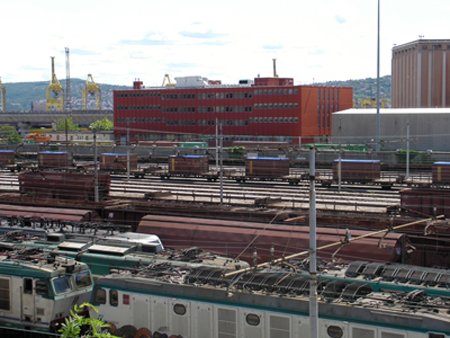 Trieste, May 21st, 2012. After the first shipment on May 17th, the transportation of waste from Campania to Trieste by train is expected to be intensified. The first train, apparently, was only a test for the new method that should substitute traditional road transportation, which is considered more dangerous and easier to identify (and to control).
During the week, the mayor of Naples, De Magistris, together with Region Campania, should launch the new phase, which would lead to shipments of waste being sent once or twice a week. Both Region Friuli Venezia Giulia, which apparently has already expressed its approval, and the Municipality of Trieste (considering the alarming statements of mayor Cosolini and of the assessor to the environment, Laureni) are involved in this system to dispose of the waste for economic reasons. Because the waste from Campania is disposed in the municipal incineration plant, managed by the Acegas-APS, the multi-utility company controlled by the Municipality of Trieste as majority partner (50,1% of the share).
An exclusively commercial operation, which took place in maximum secrecy. To date, no one knows what kind of waste are we talking about, nor where are the ashes going o be disposed. This secrecy conflicts with the necessity of absolute transparency on a matter that does directly affect public health. A secrecy that seems to involve democratic bodies as well, since the go-ahead to waste from Campania seems to come right from the Regional Government (in with Trieste has three representatives) and by the City Government, bypassing a discussion before the Regional and City Councils respectively.
As early as on April 11th, Greenaction Transnational requested urgent clarifications about the waste from Campania (the request, in Italian LINK) as well as to stop them, but in vain. Both Region Friuli Venezia Giulia and its President, who is from Friuli, and the Municipality of Trieste remained silent, but so did also local health authorities. Their logics is the usual, well established and brutal denial of the rights of the citizens, who are poisoned on a daily bases by such unpunished administrators.
European laws on waste are very clear: protection of human health and defense of the environment are to be achieved also reducing the production of waste and developing recycle to the maximum. Obviously, granting the highest transparence when it comes to the management of the waste by competent authorities.
The tre of waste that takes place in Trieste, at the expenses of its Territory and citizens is against such guideline. Such irresponsible behavior cannot remain without consequences.
Originally from the website of environmentalist organization Greenaction Transnational: TRENI DEI RIFIUTI CAMPANI: ASSE "PRIVILEGIATO" NAPOLI-TRIESTE