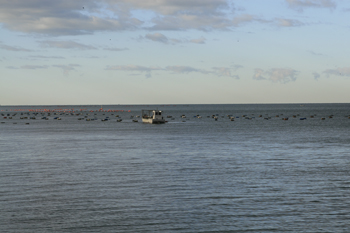 POLLUTION EMERGENCY IN THE GULF OF TRIESTE: HEAVY METALS, DIOXIN, AND TBT IN SEA ORGANISMS
The Gulf of Trieste, the most northern part of the Adriatic Sea, is affected by very serious pollution. This narrow basin, divided between four Countries (Italy, the Free Territory of Trieste, Slovenia, Croatia) is a very urbanized environment with many production areas: factories, mariculture, and fishing, but also nautical and seaside tourism, and port activities the include a large amount of oil sea traffic due to the main oil terminal of the Mediterranean (international Free Port of Trieste).
The dumping of sewage that was not treated (the European Commission has opened an infringement proceeding against Italy due to the malfunctioning of sewage treatments plants in the province of Trieste: LINK), the outflow of polluted water from river Isonzo (mercury, from the Idrija mines in Slovenia), and the many maritime and coastal dumping sites made in the past decades along the coastline from Grado and Muggia, did all severely compromise the fragile maritime ecosystem of this narrow gulf.
The few surveys on this pollution are absolutely not enough to understand the seriousness of what, regardless to that, is an international environmental disaster, still, they are enough to frame a situation that should be faced at the earliest possible time and with maximum effort.
For instance, pollution is not a problem with mere economical aspects (tourism, fishing, bathing), but it affects public health as well. How many are the people exposed – either directly or not – to the pollution of this sea of poison? Certainly many, considering the tourist value of this littoral.
In the present-day Free Territory of Trieste alone, coastal dumping sites continue, almost uninterrupted, from Barcola (near the natural reserve of Miramare) to the border with Slovenia, affecting both tourist and port areas.
On top of one of the biggest costal dumping sites, the embankment of Barcola, are settled nautical, leisure time, and bathing resorts. On top of one of the latest landfills made in the municipality of Muggia, someone would want to open a big seaside resort with many other ancillary services. In front of it there are mussel farms, with animals that absorb the poison dumped in the sea only to return it all to the customers, in the shape of mussels contaminated with dioxin, heavy metals, hydrocarbons.
The ecotoxicological survey (LINK) of the Interuniversity Center of Marittime Biology and Applied Ecology of Livorno about the Gulf of Trieste – embankment of Barcola is useful to understand how dangerous the pollutants are. The survey in the maritime landfill of Barcola and in many other parts of the Gulf of Trieste confirm the contamination of maritime organisms. The same Mussels and fish  that ends up in food markets.
It results that there are high concentrations of heavy metal (cadmium, chromo, copper, vanadium, zinc, nichel, mercury, lead, arsenic) and TBT (tributylin) in gobies and in mantis shrimp, as well as in mussels. The contamination is very extended. The "Trieste sample" reveals high levels of poison.
Originally from the website of environmentalist organization Greenaction Transnational: "Un mare di veleni"
Translated from blog "Ambiente e Legalità" – "Environment and Legality" by Roberto Giurastante