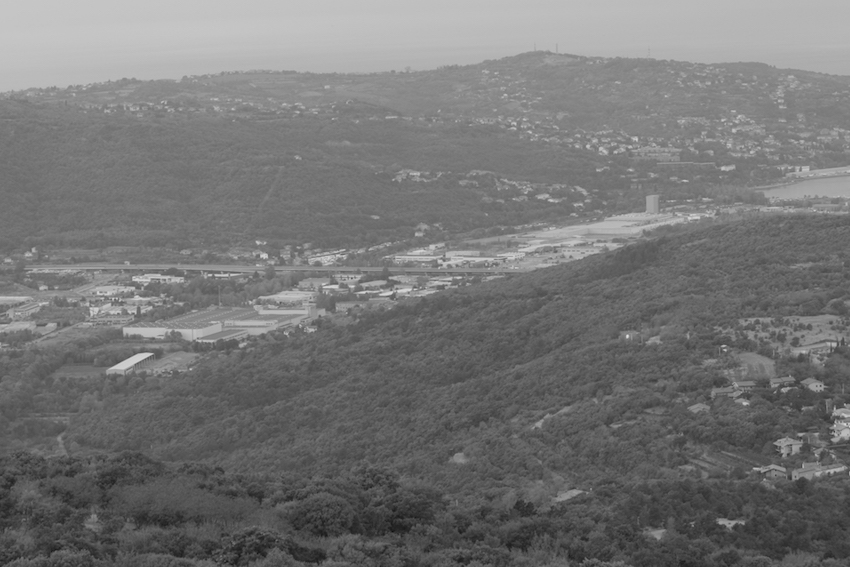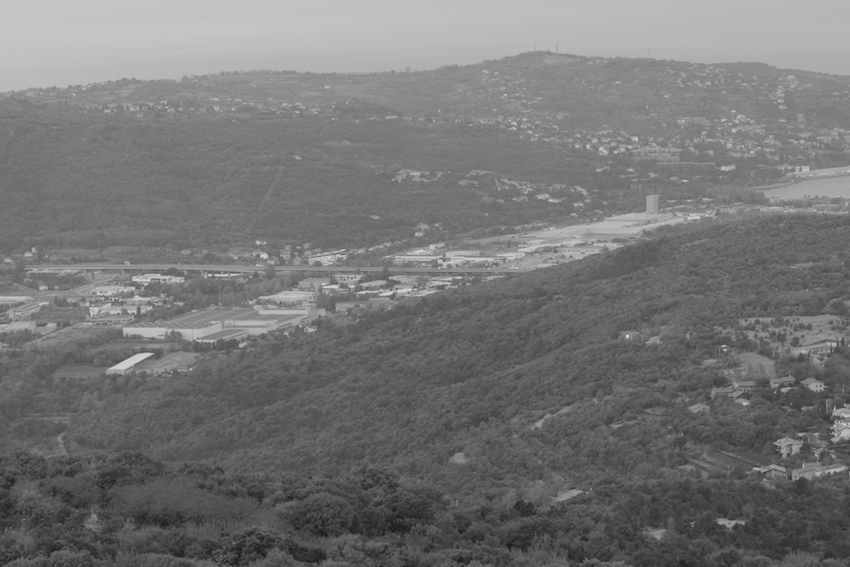 Photo (by Roberto Giurastante): Noghere Valley (from book "Tracks of Legality)
The Noghere Valley, on the border between the present-day Free Territory of Trieste and Slovenia, in front of the Adriatic sea, is where Karst river Ospo-Osp flows into the Gulf of Trieste. This is where one of the worst crimes against the environment of Trieste was committed.
From the 1960s to the 1980s, the valley was turned into a huge dumping site to conceal hazardous waste and the so-called "inert" waste after an agreement between local authorities and the 'cartels' of companies that belong to what we define as  "System Trieste". Millions of cubic meters of pollution were disposed here, without controls, and they destroyed forever what used to be a precious, unique environment. Part of the new industrial zone of Trieste was then built on this landfill.
The landfill was extended to the sea at the beginning of the 1990s, with an embankment that would then be used for sport, bathing and sailing. All kinds of waste can be found here, and they all must stay concealed for the sake of the authorities. People shall never know that those who poisoned them are ruling, undisturbed, for accepting and taking part to those crimes, selling their own territory to the powerful Italian mafia-like criminal organizations.
When you walk on those landfills, now "disguised" as factories and seaside resorts, you cannot imagine the hell under your feet; you walk on layers and layers of hazardous waste.
Under your feet, the soil has unnatural colors, from the deep black of bitumen to the metallic green-blue of heavy metals, and sometimes disturbing lakes of naphtha appear in the deep abysses that appear in this ground. But it is not over yet.
In 1988, when the final portion of the landfill was approved by the Municipality of Muggia, not even the arid bureaucracy  of the State that was raping this conquered land could hide the crime that it was committing.
What officially should have been a controlled disposal site for inert waste, was in facts an uncontrolled dumping site for the slag (ashes) of the incineration plants, the same way as the Noghere valley before, and also for all kinds of waste that had to disappear. Including, outrageously, the remains of the exemptions of the poor and of the people with no family that were buried in municipal cemeteries: dumping sites of death, in every sense.
Translated from blog "Ambiente e Legalità" – "Environment and Legality" by Roberto Giurastante
BEHIND THE DUMPING SITES OF THE FREE TERRITORY OF TRIESTE (PART 1) – LINK
BEHIND THE DUMPING SITES OF THE FREE TERRITORY OF TRIESTE (PART 2): STEELWORKS AND SURROUNDINGS – LINK
BEHIND THE DUMPING SITES OF THE FREE TERRITORY OF TRIESTE (PART 3): THE ROLE OF THE MEDIA IN AN ENVIRONMENTAL DISASTER – LINK
BEHIND THE DUMPING SITES OF THE FREE TERRITORY OF TRIESTE (PART 4): THE LIABILITIES OF THE INSTITUTIONS – LINK