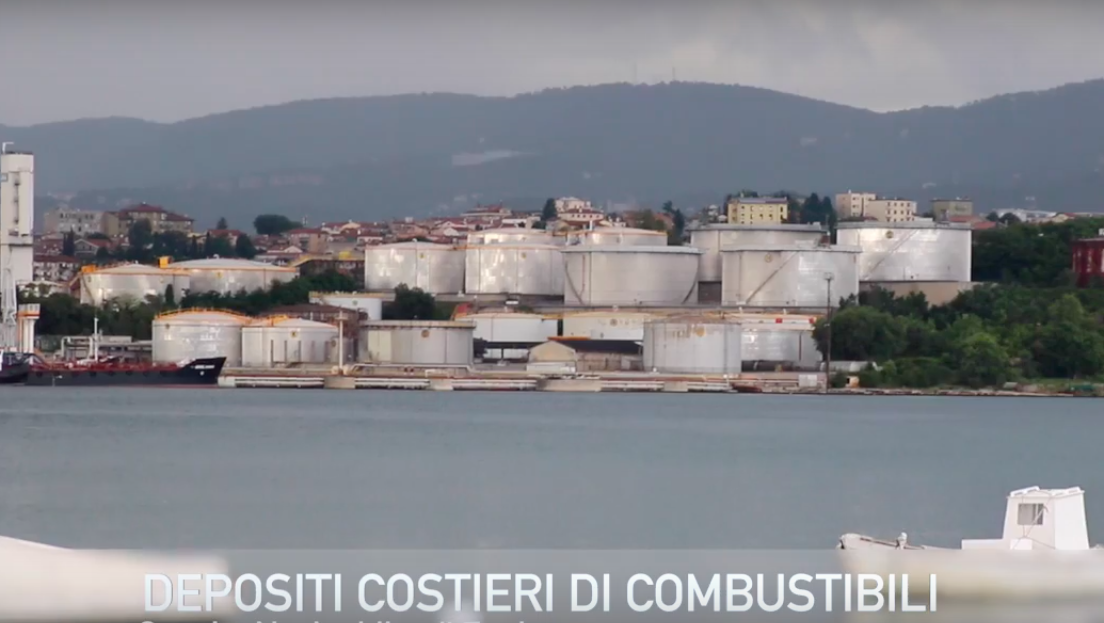 Photo: fuel depots on the shore, in the Southern Port of Trieste. The LNG terminal would be right next to those facilities at risk of relevant accidents.
THE PUBLIC PROSECUTION REQUESTS A CONVICTION TO 9 MONTHS IN JAIL FOR PAOLO G. PAROVEL – SPANISH MULTINATIONAL COMPANY GAS NATURAL REQUESTS A COMPENSATION OF EURO 100,000
On Wednesday November 23rd, at 10.15AM, continues the trial against Paolo G. Parovel, director of independent newspaper "La Voce di Trieste", charged with deffamation against Spanish multinational company Gas Natural for publishing on line an investigative analyses about the network of corruption that wants to force in Trieste, within the International Free Port, a LNG terminal that would be built right next the main oil terminal of the Mediterranean sea (the SIOT).
This is a very dangerous project that endangers the delicate maritime ecosystem of the Gulf of Trieste, the safety of navigation in the area, and also commercial traffics from and to the ports of Trieste and of Koper-Capodistria, which is the only port of bordering Slovenia. The connection of the LNG terminal to the distribution system would be granted with an underwater pipeline that cuts the Gulf of Trieste into two halves.
But the project, to which Slovenia opposes fiercely, until now was supported very much by all Italian institutions. To the point the project of Gas Natural was approved despite clamorous falsifications of the documents, which did even lead to changes in the emergency plans of the industrial plants at risk of relevant incident, by reducing its destructive potential, obviously just on paper (it is enough remembering there are depots of hydrocarbons and of liquid oxygen only some dozen meters away from the envisioned location of the LNG terminal).
The only witness of the prosecution summoned to the 23 November hearing (at 10.15AM, Court of Trieste – room 113) is the CEO of Gas Natural, Javier Hernandez Sinde. The Prosecution Office of Trieste requests Paolo G. Parovel be convicted to 9 months in peison. Gas Natural wants the journalist to pay a EUR 100,000 compensation, and all legal fees.
Since the beginning of this abnormal trial to freedom of information (just remember that Italian judicial authority is illegitimate in the Free Territory of Trieste, because it acts outside its jurisdiction) Gas Natural was investigated by Italian Anti-Mafia authorities and it 2014 it was seized due to connections with the Mafia. The news was published with much relevance by both Italian and Spanish newspapers. But not in the present-day Free Territory, where only independent newspaper "La Voce di Trieste" wrote about it, and now its director is before Court. Only a coincidence?
Translated from blog "Ambiente e Legalità" – "Environment and Legality" by Roberto Giurastante