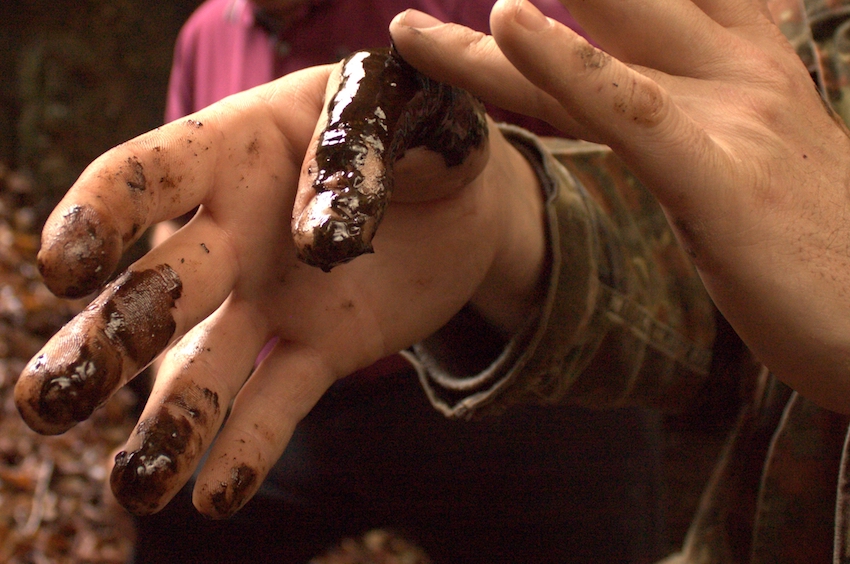 Touching pollution first hand on the Karst Plateau of Trieste: lakes of naphta and walls covered in hydrocarbons and tar within caves used as landfills (Photo: Davide Radioni).
NEVER FORGET WHO IS CRIMINALLY RESPONSIBLE FOR THE ENVIRONMENTAL DISASTER OF THE FREE TERRITORY OF TRIESTE
This is the Karst, made of forgotten landfills. Pollution that usually nobody wants to talk about. But it was caused by the same criminal system that has devastated the coasts and the port areas of Trieste. The people of Trieste have suffered in silence for too long. When your land is raped you must oppose to it, not shutting your mouth and accepting it: they are raping you as well.
We must never forget what they have done to our land, and who was responsible for it: it is the politicians who serve Italy that gave the go-ahead to make the Free Territory of Trieste a landfill for the disposal of Italian waste, the waste of Italian ecomafias of which they became accomplices and business partners.
The system of Mafias that Italy forced on Trieste is powerful. Here there were and there are representatives of all Italian criminal organizations, from Apulia and Calabria, from Campania and Sicily, and they enjoy strong protections on all levels. There are even criminal organizations from Veneto.
And this is why it is disgusting seeing that the downgraded, corrupted Italian politics only remembers about the environmental question of Trieste during the electoral campaign, currently in view of Regional election (which are even illegitimate, because they are summoned under the laws of another State, Italy, which has no sovereignty over Trieste and its international Free Port.
With what right the very local nationalistic camorra that profited from the crimes against the environment and against the health of the people of Trieste, crimes that remained for long unpunished thanks to the judicial branch of the "system" is now trying to profit from it also gaining votes?
This local nationalistic camorra that, for long decades, has trampled on both our rights of free citizens of an independent State and on the very laws of the Italian Republic does not deserve our votes: it is time to understand that Trieste is not a colony, it is the capital city of a little State that can become the European Singapore.
It is important understanding that only by re-establishing this international role the Free Territory of Trieste and its international Free Port can attract the investments needed to finally reclaim polluted areas, thus returning dignity, jobs, and health to our State.
Translated from blog "Ambiente e Legalità" – "Environment and Legality" by Roberto Giurastante