At the end of the hearing held yesterday, 19 March 2014, the President of the Free Trieste Movement, Roberto Giurastante, announced that judge Leanza issued an ordinance in which che confirms that the 1954 Memorandum of Understanding of London, the agreement regarding the Free Territory of Trieste between the Governments of the United States, of the United Kingdom, of Italy and of Yugoslavia consisted in nothing more than a change in administration, without changes in sovereignty.
Even if he rejected the exception on the lack of jurisdiction appealing to the Treaty of Osimo (which, among other aspects, being an agreement between States, could not affect the obligation of their Government and, being a bilateral agreement, could not amend the multilateral, normative Treaty of Peace of Paris) the ordinance of judge Leanza is important because it confirms once again that the "return" of Trieste to Italy in 1954 is mere propaganda, the truth is an illegal simulation of Italian sovereignty (consisting, for example, in denying the citizens of Trieste their legitimate citizenship and own taxation, but also forcing them to serve in the armed forces of the Republic of Italy) is illegal, as denounced by Free Trieste as early as it was established, in 2011, and as codified in its Act of Complaint and Notice of Default to the Italian Government, presented in June 2013.
Since 1954, the Italian Government – not the State – is entrusted with the duty to exercise temporary civil administration over the present-day Free Territory of Trieste, committing to respect its status. This important admission confirms, once again, the value and importance of the legal studies of Free Trieste and of is actions in defense of the rights of the citizens, enterprises, and international Free Port of the Free Territory of Trieste, that shall continue until the complete recognition and re-establishment of the rule of law.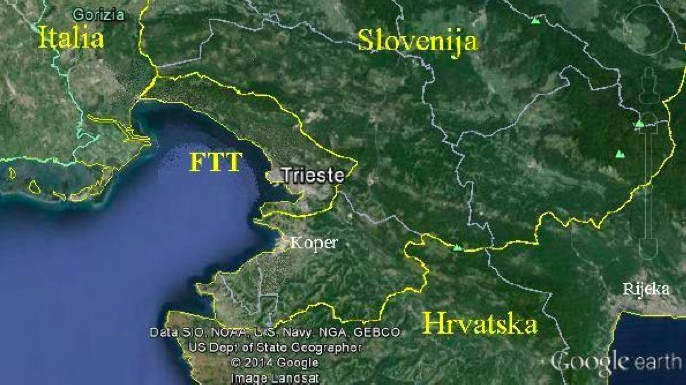 The present-day Free Territory of Trieste, bordering with Italy and Slovenia