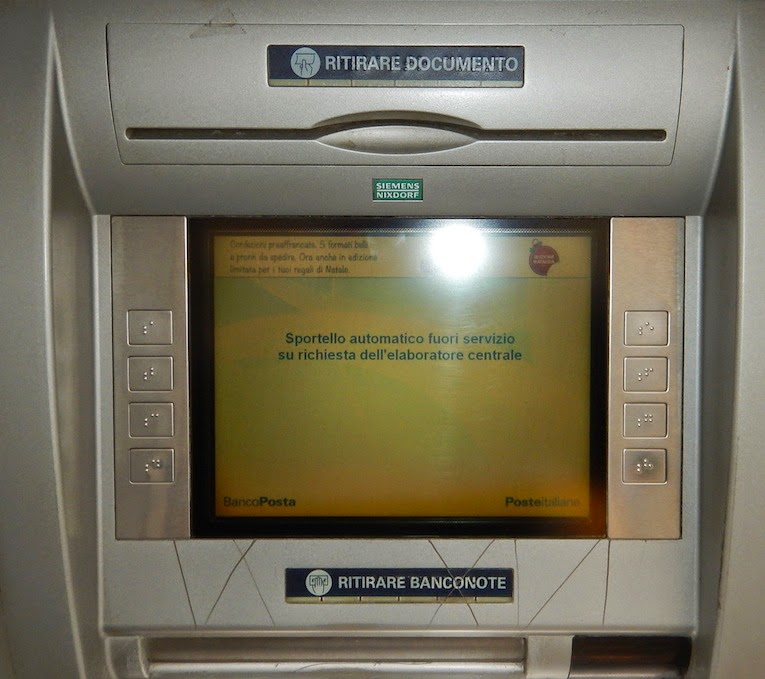 Translation note: the screen says "This ATM is out of service upon request of the central computer".
The underwritten, as citizen residing in the Free Territory of Trieste, underlines that measure No. 37561/2013, Article 11, sub-paragraphs 2 and 3 of the Decree-Law No. 201, dated December 6th,  2011, reverted and modified with Law No. 214 of December 22nd, 2011"Modalità per la comunicazione integrativa annuale all'archivio dei rapporti finanziari"  – "Methods for the annual submission of the archive of financial records" cannot be extended to the Free Territory of Trieste due to the obligation deriving from international agreements concerning said territory.
________________
One of the consequences of the establishment of the Free Territory of Trieste as a recognized State and ex-officio a Member of the United Nations is the recognition of its monetary sovereignty, established under Annex VI, Article 30 of the Treaty of Peace of Paris, in 1947.
This law is still in force, as it has never been abolished or modified, and it makes Trieste a territory outside the financial laws of the European Union. Therefore, outside the control of the Central European Bank and of the related Banca d'Italia: a true "free zone" of world economy.
Of cause, this does also apply to the International Free Port of Trieste, recognized under Resolution 16 of the Security Council of the United Nations. Monetary sovereignty means the right to have our own currency and our own stock exchange. All of this is also in regard to the use of the Free Port of Trieste.
The citizens of the Free Territory, until their own currency is established, benefit of the protections established under the Treaty of Peace, therefore, they cannot have foreign currencies imposed as their own currency, unless that is a temporary measure and only after an agreement between the provisional Government and the senders.
Another consequence of the economic provisions set with the Treaty of Peace is the impossibility to tax the Free Territory of Trieste for it to pay the public debt of the Republic of Italy (Annex X, Article 5). Therefore, the Republic of Italy cannot force the citizens of Trieste to pay its taxes nor said taxes can be levied within the Free Territory of Trieste.
Superior source of law, which Italy must respect due to the international agreements it has undersigned, laws that the European Union itself must respect.
Yet, these international agreements, to this day, were completely neglected by the Republic of Italy, but every single citizen of the Free Territory can claim these to demand respect for their rights. How can one efficiently exercise monetary sovereignty? Questioning, even as a single person, Italian and European laws on economic matters. Starting with the credit institutions which enforce these laws.
Translated from blog "Ambiente e Legalità" – "Environment and Legality" by Roberto Giurastante