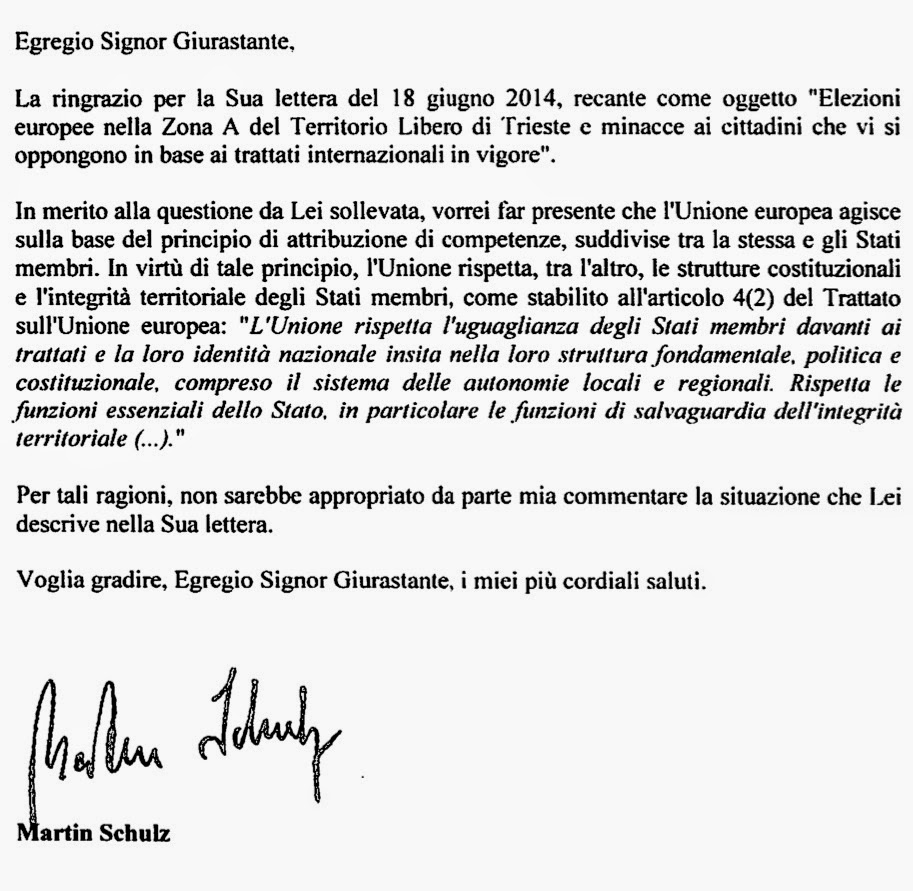 Official letter from Mr. Martin Schulz, President of the European Parliament: see translation notes below.
ILLEGAL EUROPEAN ELECTIONS IN TRIESTE: ANSWERS MARTIN SCHULZ PRESIDENT OF THE EUROPEAN PARLIAMENT
The President of the European Parliament, Martin Schulz declares that "it would not be appropriate, on [his] side, commenting the situation You are describing in Your letter". This is the first answer of EU authorities institutions to the complaint of the Free Trieste Movement regarding the unlawfulness of European elections being held in Zone A of the Free Territory of Trieste.
In my role of President of the Free Trieste Movement, I denounced this situation and supported the complaint with 300 declarations presented by the citizens to the polling stations and declaring that European Elections cannot be held in Trieste. The complaint was addressed  to the European Commission and to the President of the European Parliament as well.
The complaint did also include administrative judgment No. 530/13 issued by the the Regional Administrative Court for Friuli Venezia Giulia, a further evidence of the severe, repressive violations committed by local Italian authorities against the citizens of Trieste in response to their claims of the rights established under the Treaty of Peace of Paris of 1947.
For instance, Italian administrative judges rejected Free Trieste's appeal and declared "subversive" the appellant (myself) for bringing the suit forward. According to those adminsitrative judges, my appeal, supported ad adjuvandum by 56 more citizens, we threatened the unity of the Italian Republic and therefore the main appellant, Roberto Giurastante, should be prosecuted for the crimes against national unity.
On the other side, the President of the European Parliament answered as it is to be expected by European authorities, recognizing how complex and uncertain this legal situation is. Indeed, since it is impossible claiming Italian sovereignty over Zone A of the Free Territory of Trieste, Mr. Schulz prefers "not to intervene on substance". We are still awaiting the answer of the European Commission.
In the meantime, Judgment No. 530/13 of the Regional Administrative Court, already impugned before the European Court of Human Rights, is about to be brought before other international authorities as further evidence of the severe violations of the Italian Peace Treaty committed by Italian authorities. Violations that are not only about the denial of civil rights, but also about the international Free Port of Trieste, which the adminsitrative judgment falsely declares to be  under Italian sovereignty in spite of the law and at the expenses of the whole International Community.
Translation note: the text of Mr. Schulz's letter.
"Dear Mister Giurastante,

I thank you for Your letter of June 18th, 2014, whose subject is "European Elections in Zone A of the Free Territory of Trieste and threats to the citizens that oppose to that on the basis of international treaties, in force".

As for the question You are rising, I would want to remind that the European Union acts in accordance with the principle of the distribution of competence, shared among itself and the Member States. In virtue of this principle, among others, the European Union respects the constitutional structures and territorial integrity of its Member States, as established with Article 4(2) of the Treaty on European Union "The Union shall respect the equality of Member States before the Treaties as well as their national identities, inherent in their fundamental structure political and constitutional, inclusive of regional and local self-government. It shall respect their essential State functions, including ensuring the territorial integrity of the State (…)"

For said reasons, it would not be appropriate, on my side, commenting the situation You are describing in Your letter.

Please, Dear Mister Giurastante, accept my kindest regard.

(Signature)

Martin Schultz"
Translated from blog "Ambiente e Legalità" – "Environment and Legality" by Roberto Giurastante